February 14th, 2016


I have driven by this windmill numerous times the past two decades and never took a shot of it until today. This vintage water pump sits alone in a Iowa field a couple hundred yards from the road. I wanted an image that would put all focus on the tower with no background and the snow blowing hard today gave me my opportunity. I am happy with the minimal view this photo has.
February 14th, 2016


I went out in heavy blowing snow today to photograph one of my favorite barns, since I last visited the lonely barn the roof has fallen in but both ends stand yet. I am glad I got images of this barn as itís fate is sealed now and the next strong thunderstorm should bring it down.

Old deserted buildings are interesting subjects as they tell stories all on their own, there is also a sadness at seeing this discarded structure that served itís tenants well protecting their livestock from the elements. So long old friend thanks for the imaginative memories and the shared sunrises.
July 30th, 2015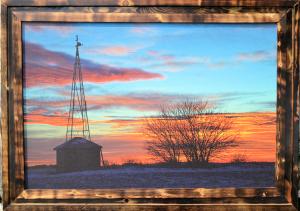 Local sales are going to be your best place to become known. It is also the best place to attempt sales as these are the people who can relate and identify with your images. It could be something you all drive by every single day.
Such was the case on one cold winter morning in my hometown. I was sitting on the couch having my morning coffee and getting caught up on my images when I turned and looked out at the morning sunrise. The colors on that crisp morning made me jump up and grab my camera. I was still in pajamas, threw my coat on and slid my bare feet into my slippers. Not sure what my wife, Sandy, thought as I headed out, as this was still a relatively new hobby for me at that time.
I had to get on the other side of town to take a good shot. This does not take long as town is not very big. It was around zero degrees and the cold air hits right inside the lungs as you take the first breath in. No time to let the car warm up this day and in a flash I was down the road.
It took all of a minute or two at the most, told you town is not big, around 150 residents last I heard. I turned south on the blacktop county road heading towards State Highway 3. As I drive I am always on the look-out for the image I want to capture, and this morning there was a rushed panic as I knew the sun would be creeping up in any minute.
A quarter mile down the road I saw the shot I wanted. It was an old windmill with its base surrounded by a clay-brick well house. This old windmill is missing its blades and no longer serves the purpose it was built for but it looked good for a capture that day. There is nothing else on the property other than a few smaller bushy trees.
I pulled into the field drive way, parked the car and hopped out to take my captures. I would have been a site dressed in pajamas and wearing those slippers standing in the cold snapping pictures on that crisp cold morning. It has been one of my personal favorites and I have a copy hanging up in cubical at work.
Early this year I purchased some canvas prints un-stretched and decided to make my own frames. I has some ideas and settled on burnt pine. I never cared for the wrap canvas everyone seems to sell and gets a good price for and thought I would put my personal spin on it. The resulting piece is shown below and turned out far better than I imagined.

May 8th, 2015
Why?

Not many people ask me why I shoot what I shoot, maybe they don't need to ask and connect with the images they look at. I have spent two and a half years on this photo journey and I never seem to run out of things to capture. Many places in rural Iowa's landscape are changing.

I grew up on a small family farm in North Central Iowa. My Mom, Dad and three siblings in the modest farm house and my Grandfather in a trailer house 50 yards away. I have so many fond memories of my past and all the simple experiences being raised in a rural farm. I related to the animals the most and they were raised in clean safe environments. Now everything seems to be confined in cages and pens and never gets to see the daylight or open sky.

We had a windmill on the farm that was no longer in use other than as a giant wind vane, I can still hear this 60 foot skeleton creak, squeak and groan as the tail changed direction with the prevailing winds.

Why old and abandoned farms and barns?

Farms have been getting larger and larger every year, gone are the small family farms that once dotted the landscape. Modern farming practices have changed every aspect of agriculture and what used to take days to do can now be completed in less than a day, thus family sizes have shrunk, once thriving communities are in decay and whole school districts are gone and merged with surrounding communities.


Throughout this transformation, whole homesteads are being leveled, with no one to live in them and no use for the out buildings, they are disappearing at an alarming rate. Hogs used to roam outdoors during the day and slept in the barn or hog sheds at night, now it is such an oddity to see a pig outdoors. Many of these buildings are falling down due to these modern farming practices. This is why many of my images are of these buildings and farm sites. I wish to record these places and try to present them in a manner that honors the people of the past that worked so hard to build them. I often wonder what they would think if they saw them today.

You will not see many images of modern farm sites as most lack character and story to present in an image, many are quick build steel pole sheds and steel grain bins. Nothing wrong with that just not the architecture that I enjoy seeing not do they captivate the imagination and the struggle that it took a century ago to construct those buildings.

It is not for me to decide whether this change is good or bad, though I lean towards the latter most times, I just attempt to capture them and let the viewer decide. Only passage of time will decide the verdict.
October 13th, 2014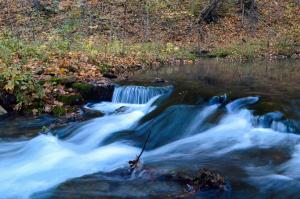 After my brief visit to Decorah last week I immediately made plans to revisit the area again on Saturday. The title of this blog is terra incognita which means uncharted or unexplored, I treat every new place I visit as unexplored (at least by me it is) and this weekendís trip was going to be just that. I just developed a recent fascination with cold water springs and located two more to make my next geographic journey to. One of them is called Twin Springs just outside of Decorah on US52 and the other Malanaphy Springs north and west of Decorah about 4 miles. This was the adventure part of my trip as this required a mile hike one way over unknown terrain.
I awoke early Saturday morning and made coffee and drank down as much as I could before my departure time of 5:45. It was about 90 miles to Decorah and I wanted to get there around sunrise. It was also the first sub-freezing weather of the season as it got down to 28F and I grabbed my leather coat. The drive was uneventful for the most part as I chilled and listened to music all the way up. With about six mile to go I saw two adult Bald Eagles near the roadside and they flew up as I approached them. The orange glowing disc of the sun was also just making itself visible over the rugged hills near Decorah.
I made the last six miles to my first stop and turned into the park area known as Twin Springs. The cascades were letting off steam and mist due to the consistent water temperature in the 50ís and the air temperature around 32.
I saw a few small trout using the stream as their home and watched one dart into the mouth of the springs which had a culvert in it, I wondered how far into the dark he swam. Never did see him exit the spring.
Viewing this stream looked like something one would see in a Game Of Thrones episode. It was relaxing as I went up and down the length of the stream to take various time exposures to show the water flowing. The second picture shows the source of the springs. Glad my GPS guided me to this spot by accident a week earlier, sometimes mistakes are good.
I was done after an hour of wandering up and down the length of the banks and decided it was time to pack up my gear and move on.
It was a ten minute drive to the next location and I was treated to a spectacular view of the bluffs along the Upper Iowa River lit up by the morning sun and in full autumn colors

The entrance to Malanaphy Springs was a small parking area, probably enough for five six cars max, one gentleman was there in a pickup truck but left before I was able to get out. I could clearly see where the trail was and grabbed the gear I needed for the hike in. I had no idea what the path was like and how long it would take me to get there. It was only about one hundred feet or so and I was surrounded and in the midst of an amber colored Maple forest. The fallen leaves had already left a thick carpet on the floor with many more to fall.
The trail was solid limestone which was fairly flat and reminded me of a rough cobble stone. I came across three trees that fell across the trail and had to traverse them in various fashions. Over under and around, I traveled in at a steady slow pace listening to the surroundings and could hear very little. It was eerily quiet and even the woods was devoid of wildlife. Must have been the chill in the air. My mind wandered to the Blair Witch Project movie a few times as I ventured deeper and deeper into the woods.
There was little evidence of people using the trail as it was covered in leaf litter. One tree I came across was interesting as it was wedged in between the crotch of another and held in place. It had been there a long time as initials had been carved into its trunk.
Hard to tell how long it had been in that position but I would guess a decade had passed since it fell. Another hundred feet or so I was able to hear the sound of rushing water. I picked up the pace a little and went up a small hill and stood looking down upon the spring.

The picture does not do justice to the size and length of the spring, and man the sound of it reverberating down the slope as if some weird kind of amphitheater. I will conclude this blog tomorrow stay tunedÖ

September 17th, 2014
This past weekend I was doing some landscape shooting at a local dam. The shooting location is along the Shell Rock River south of Clarksville Iowa. I usually leave about 45 minutes before sunrise to this location as it takes 20 minutes to reach from my home. I have been to this location a lot the past month trying to capture its essence, I have also been focused on a 100 year old trestle about a mile down river but the lighting and clouds never seem to cooperate.
This morning the sky was overcast which was a disappointment to me and it was the coolest morning of the season so far, with light frost in low laying areas. I stopped at the trestle first and took a few shots before heading up river to the dam.


The dam access is on a high bank 100 feet of so above the bank. There is two ways to reach the dam one involves steep decent with a few places to get decent footing, the other is a rickety old set of metal angle iron stairs that look to be over a half century old. I opted for the stairs on this trip down. I took a few more shots and relaxed listening to the sound of the water before packing it up and returning home.
A couple of hours went by and the sky turned blue and became perfectly clear and I once again got the bug to return to the dam and get some bright day shots of the backwater area. I repeated the earlier steps from the day only this time going down the non-step access point.
As I sat on top of the dam I took some photos I wanted and was just listening to the sound of the crashing water and watching it flow over the dam.


Nobody was around to disturb me, solitude peace and quiet. I had my 18-55mm lens attached and tripod set up, after taking a few more shots I wanted to capture the sound and action on video and set the camera up level with the top of the dam and started filming.
A few seconds later a Bald Eagle circles over the backwater and suddenly drops down over the water and snatches a fish from the surface, he then flew over to a downed tree along the bank and ate his meal. At this point I was frustrated I did not have any other lens on me. I should have known better than leave with one lens. I moved the tripod up higher to film the eagle as best I could he was a good 200 feet away. He ate the small meal and jumped off the log and got a drink.
By this time I was having a mental conversation with myself. Could I possibly rush through the boulder strewn shore line to the rickety metal stairs and go up the 100 feet in time to grab the telephoto and make it back to get a shot? Visions of twisted ankles scraped skin talked me out of it. I decided to enjoy the moment and watch this bird as he flew off and went the full width of the frame on video before flying downstream right overhead.
Sometimes the moments captured are in the mind only and makes for wonderful memories, this was the first time I have seen this in person and it will remain with me for the rest of my life, even without the image. Would have loved the shot but loved seeing it even more. To me the golden hour is any time of day when you experience a moment when your spirit is uplifted by being in that moment.

August 23rd, 2014
Going on a three day photo shoot of the Driftless area in NE Iowa. While there I will be taking shots of the river valleys and some of the old stone structures throughout the landscape. I will also be using this trip for scouting locations for Fall colors and a return trip in October to those sites.

The Driftless Area or Paleozoic Plateau is a region in the American Midwest noted mainly for its deeply carved river valleys. While primarily in southwestern Wisconsin, it includes areas of southeastern Minnesota, northeastern Iowa and extreme northwestern Illinois. The region includes elevations ranging from 603 to 1,719 feet (184 to 524 m) and covers an area of 16,203 square miles (42,000 km2). The region's peculiar terrain is the result of its having escaped glaciation in the last glacial period.

The views from the bluffs of the Mississippi River valley are a sight to behold. One night we will be staying in an old limestone warehouse/button factory which has been converted into a motel along the river, this structure is built of limestone and is around 150 years old. Upon my return trip I will be heading north to an old time thresher event in the hopes of catching some working steam engines in action.

Stay tuned and keep an ey out for the upcoming photos.
June 22nd, 2014
One of my better morning ventures. The Big Marsh is located in NE Iowa in Butler County, recent flood waters has turned the marsh in a large lake.